About Us
Kahnawà:ke is a Kanien'kehá:ka (Mohawk) community located on the south shore of the St. Lawrence River, across from the island of Tiohtiá:ke (Montreal). The Kahnawà:ke Environment Protection Office (KEPO) is a unit of the Mohawk Council of Kahnawà:ke (MCK) with the goal of "fighting to protect and better our environment".
View MCK Website
Our History
The modern environment movement in Kahnawà:ke started in the early 1980s with a group of local grassroots activists and scientists who initiated a study series to assess the potential impacts of Project Archipel – a proposal by Hydro-Quebec to dam the Lachine Rapids for hydroelectric power. The group formed the Kahnawà:ke Development Research Program (KDRP) and carried out research on Kahnawà:ke ecosystems, species, pollution, weather and seasonal changes.
This project led to many other studies in the 1980s including fish, bird and plant inventories, water sampling, pollution monitoring, identifying contaminated sites, as well as educational initiatives such as the creation of a newsletter called "Kahnawà:ke Environment".
KDRP eventually dissolved but the drive to protect our environment remained strong in the community.
In the late 1980s the indiscriminate dumping of garbage and contaminated debris became a major concern. This practice had been occurring in the community for decades by non-local companies seeking cheap or free ways to dispose of their debris. In some instances the local landowner was aware of the dumping, and in other instances the dumping took place without permission, often under the cover of night.
In 1987, the women of the 207 Longhouse stood in front of trucks who were dumping garbage in our community in attempt to stop the practice. This grassroots action led to the creation of the Kahnawà:ke Environment Protection (KEP) which was originally funded by the 207 Longhouse. Some of the first actions of KEP were the development of guidelines for landfill, permitting only clean tested soil to enter the community, and the creation of a recycling program.
In the early 1990s KEP came under the umbrella of the Mohawk Council of Kahnawà:ke, as the Kahnawà:ke Environment Protection Office (KEPO).
Throughout the years, KEPO has grown in its scope of responsibilities and expertise. Areas of responsibility currently include wildlife and habitat studies, environmental protection, restoration and enhancement, monitoring of contaminated sites, surface water monitoring, inspections, environmental aspects of consultations, and providing environmental and scientific expertise for projects, policies and regulation development. See our Projects and Services for more information.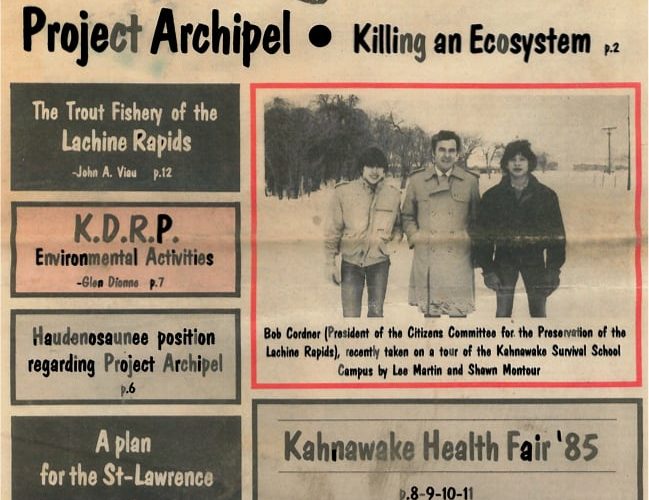 Our Mission
To provide environmental leadership to the community in fulfilling our responsibilities as caretakers of our Mother the Earth.
Our Vision
Our vision, based on Kanien'kehá:ka traditional values, is to promote the protection, respect and improvement of all aspects of the environment. Through awareness and community responsibility we will succeed in the restoration and preservation of our Mother Earth for the future generations.