Kanien'kehá:ka culture is integral and inherently linked to the work that we do at Kahnawà:ke Environment Protection Office. The Ohén:ton Karihwatéhkwen (which in our language means "the words that come before all else") was given to the Rotinonhsón:ni as a reminder that humans share the important responsibility to ensure that the cycles of life continue. These words of thanksgiving are expressed to bring our minds together and to offer our gratitude to all the different parts of creation that continue to fulfill their duties in the natural world.
We coexist with all our brothers and sisters in the natural world and unfortunately human disturbances to the environment are inevitable. However, we have the responsibility to find sustainable ways to develop and live our lives so we can avoid and minimize disturbances to the natural world.
At the Kahnawà:ke Environment Protection Office, our actions and recommendations are guided by our culture and the goal of protecting our environment for the future generations. We strive to steer the community towards sustainable ways of developing and sustainable lifestyles. This is generally done in a priority sequence:
The first priority is to avoid disturbances to the natural environment;
If this is not possible, we can assist in finding ways to minimize disturbances;
We also work to restore or enhance habitats that have been disturbed so that a diversity of plants and animals can thrive once again.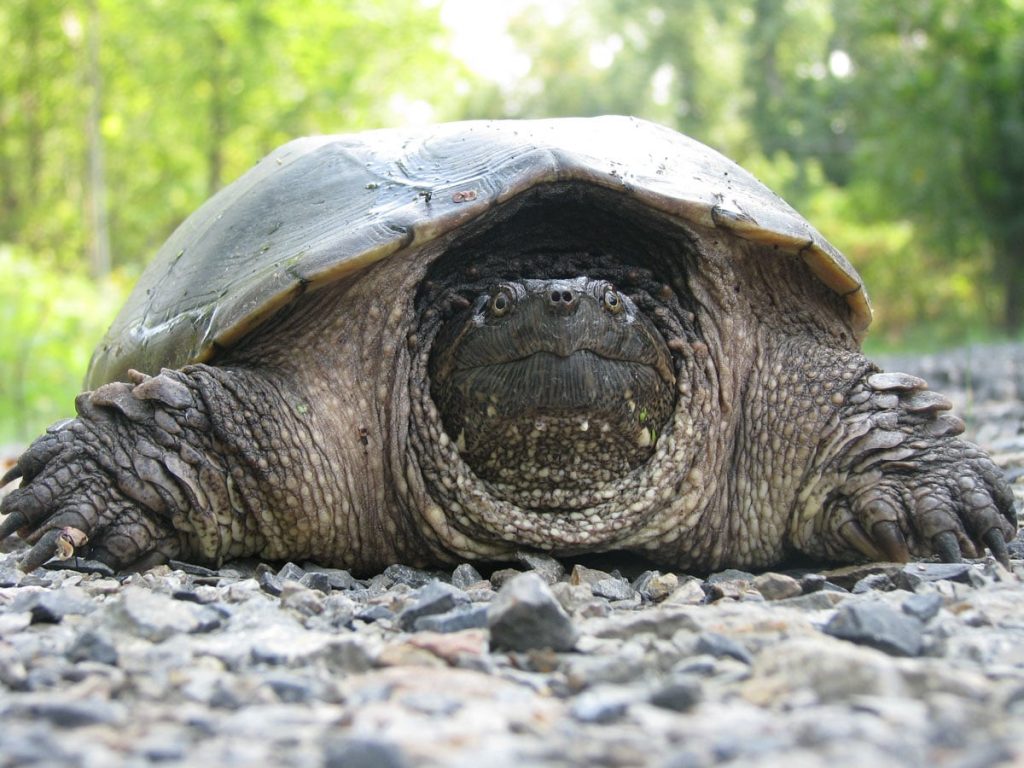 Here are some Kanien'kéha (Mohawk) words you can learn about our environment in Kahnawà:ke:
Our language is descriptive and provides us with the foundation of our worldview. The forces of colonization have had devastating impacts on our language, which is at risk of being lost. Kahnawà:ke, like many other Onkwehón:we (Mohawk word for "Original People") communities, has initiated many programs and activities to bring our language back to life in our homes, schools, at work, and around the community.
Kahnawà:ke Environment Protection Office – Kahnawà:ke Iakwatonhontsanónhnha tsi Iehiatónhkhwa
Environment Protection
Iakwatonhontsanónhnha – Ia-kwa-ton-hon-tsa-nónhn-ha – We all mind her, the Earth
Rontonhontsanónhnha – Ron-ton-hon-tsa-nónhn-ha – They all mind her, the Earth
Ionkhi'nisténha tsi Iohontsá:te – Ion-khi'-ni-stén-ha tsi Io-hon-tsá:-te – Our Mother the Earth
Sherihwakwénienst ne Ionkhi'nisténha tsi Iohontsá:te – She-rih-wa-kwé-nienst ne Ion-khi'-ni-stén-ha tsi Io-hon-tsá:-te – Respect her, our Mother the Earth
Tóhsa enhskaré:wahte ne Ionkhi'nisténha tsi Iohontsá:te – Tóh-sa enh-ska-ré:-wah-te ne Ion-khi'-ni-stén-ha tsi Io-hon-tsá:-te – Don't hurt her, our Mother the Earth
Tóhsa satié:sat ne ohné:kanos – Tóh-sa sa-tié:-sat ne oh-né:-ka-nos – Don't waste water
Wildlife in Kahnawà:ke
Kentsonhshón:'a – Ken-tsonh-shón:-'a – Fish (plural)
Kéntson – Kén-tson – Fish
Kanión:ta – Ka-nión:-ta – Minnow
Onawa'tstokón:ha – O-na-wa'-tsto-kón:-ha – Bullhead
Oiahè:ta – O-ia-hè:-ta – Perch
Oneniokón:ha – O-nen-io-kón:-ha –Rock Bass
Teiotién:taron – Te-io-tién:-ta-ron – Sturgeon
Tiawerón:ko – Tia-we-rón:-ko –Eel
Otskwà:rhe – Ots-kwà:r-he – Frog
Tsikenitshehwèn:ta – Tsi-ke-nit-sheh-wèn:-ta – Tadpole
Tsikhnennà:tak – Tsikh-nen-nà:-tak – Toad
Ò:niare – Ò:-nia-re – Snake
Tsikenontsísta – Tsi-ke-non-tsís-ta – Salamander
A'nó:wara – A'-nó:-wa-ra – Turtle
Ohsohkwa'kéha a'nó:wara – Oh-soh-kwa'-ké-ha a'-nó:-wa-ra – Painted turtle
Kaniáhton a'nó:wara – Ka-niáh-ton a'-nó:-wa-ra – Snapping turtle
Otsi'ten'okón:'a – O-tsi'-ten'-o-kón:-'a – Birds
Tsítha – Tsí-tha – Bird
Kanatakón:ha – Ka-na-ta-kón:-ha – Sparrow
Ken'tarakonhá:ka – Ken'-ta-ra-kon-há:-ka – Swallow
Kwareró:ha – Kwa-re-ró:-ha – Barn Owl
Tsistékeri – Tsi-sté-ke-ri – Great Horned Owl
Tsohwà:tstaka'we – Tsoh-wà:ts-ta-ka'-we – Seagull
Tawístawis – Ta-wís-ta-wis – Snipe
Tonniatarèn:ton – Ton-nia-ta-rèn:-ton – Loon
Tsiktsiré:re – Tsik-tsi-ré:-re – Chickadee
Tsiktsinén:nawen – Tsik-tsi-nén:-na-wen – Butterfly
Plant Life in Kahnawà:ke
Okwire'shón:'a – O-kwi-re'-shón:-'a – Trees
Okwí:re – O-kwí:-re – Tree
Ónerahte – Ó-ne-rah-te – Leaf
O'wá:tsiste – O'-wá:-tsis-te – Bark
Ohskwè:ia – Oh-skwè:-ia – Bud on a tree
Atiehwà:ta – A-tieh-wà:-ta – Butternut tree
Ononhkwa'shón:'a – O-nonh-kwa'-shón:-'a – Medicines
Iokhahon'kó:wa – Io-kha-hon'-kó:-wa – Wild garlic/leek
Iohséhton – Ioh-séh-ton – May Apple
Tekaren'tó:ken – Te-ka-ren'-tó:-ken – Ginseng
Onó:ta – O-nó:-ta – Cattails
Káneron – Ká-ne-ron – White Ash
Éhsa – Éh-sa – Black Ash
Habitats in Kahnawà:ke
Kahnekarónnion – Kah-ne-ka-rón-nion – All the waters
Kaná:waien – Ka-ná:-wa-ien – Swamp
Kanawakónhson – Ka-na-wa-kónh-son – In the wetlands
Kahionhatátie – Ka-hion-ha-tá-tie – Creek, stream
Kaniataratátie – Ka-nia-ta-ra-tá-tie – River
Species at Risk
Ionahtonhátie – Io-nah-ton-há-tie – They are disappearing
Iótteron ne Akónhton – Iót-te-ron ne A-kónh-ton – It's disturbing that they may disappear (species at risk)
Invasive Species
Wateronta'wénthos Otsi'nón:wa – Wa-te-ron-ta'-wén-thos O-tsi'-nón:-wa – Emerald Ash Borer
Climate Change
Teiottenionhátie' tsi niiorihò:ten' nonhwéntsa' – Te-iot-ten-ion-há-tie' tsi ni-io-ri-hò:-ten' nonh-wén-tsa' – Climate Change
Aontaka'seronnénhton' – A-on-ta-ka'-se-ron-nénh-ton' – Mitigation
Entsitewarèn:ha' – En-tsi-te-wa-rèn:-ha' – Adaptation
Ionkwa'nikonhratshá:ni – Ion-kwa'-ni-konh-rat-shá:-ni – Resilience
Ientewatahsónteren' – Ien-te-wa-tah-són-te-ren' – Sustainability
Kà:ron' nitio'shatstenhserá:ien – Kà:-ron' ni-tio'-shat-stenh-se-rá:-ien – Vulnerability
Onhwentsakwé:kon enwa'taríha'te' – Onh-wen-tsa-kwé:-kon en-wa'-ta-rí-ha'-te' – Global warming