back
Kenténha/October 2021 – From October 4th to 9th, the Kahnawà:ke Environment Protection Office held the Há'o tewaiéntho! Let's plant! tree planting event. A total of 475 indigenous trees and shrubs were planted at different sites around the community that were identified as hot spots, or areas that tend to be hotter during the summer months due to lack of shade and vegetation. The sites identified were Tekakwitha Island, the bike path across from the Island, Orville Standup Memorial Park, Sesame Park, and the Sports Complex. Trees were also donated to both   Karonhianónhnha School and Kahnawà:ke Survival School, where they were planted on school grounds., A total of 60 volunteers joined KEPO staff to plant during the week-long event, with the Horticulture program from the Huntingdon Adult Education and Community Centre joining on the last day.
The goal of this activity was to mitigate climate change by removing carbon emissions from the atmosphere. Trees capture and store carbon, and help in adapting to the expected impacts of climate change in Kahnawà:ke, including higher temperatures and an increase in the frequency of heatwaves (identified in the Kahnawà:ke Climate Change Plan, 2019). By planting mainly leafy trees, the aim was to provide shade to cool these areas. Additionally, planting trees will replace some of the dying and dead ash trees affected by the invasive emerald ash borer.
Há'o tewaiéntho! Let's plant! was a great success and we wish to say niawenhkó:wa to all our volunteers for your enthusiastic participation.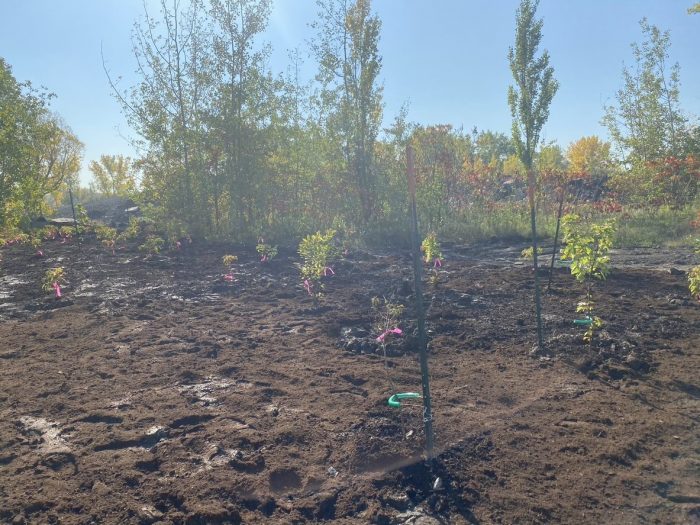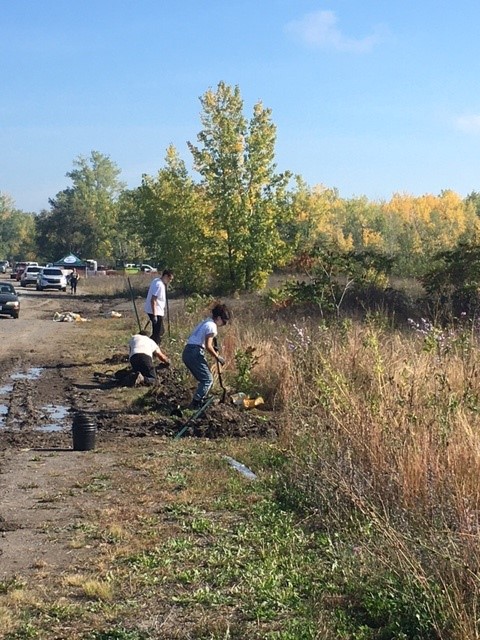 ---
19, Ohiarihkó:wa/July, 2021 – Continued climate change action in Kahnawà:ke by Marina Gosselin, Environmental Projects Coordinator – Climate Change
Climate change and its impacts fills our daily news and social media. Every year we are witness to a growing number of climate-related events that are frequently described as 'record breaking' or 'unprecedented.' Many of these events are natural and have always occurred, such as wildfires or floods, except that in the last few years, they are beginning to surpass records in terms of their magnitude and frequency. Every summer, we see more heatwaves in places that never had such extreme temperatures in living memory and official records; in other places, we see more rainfall and intense storms. That is why it is important to both try to mitigate our impacts by reducing greenhouse gas emissions, and to adapt and prepare for these new scenarios. The actions of small communities like Kahnawà:ke may seem like a drop in the ocean, however, it is the collective actions of many small communities that will make an impact. Policies and initiatives at the federal and even global level, while necessary and important, can be slow or prone to change every time there is an election, and they sometimes take a one-size-fits-all approach with their solutions. The advantage of small community actions is that we can focus our efforts on solutions that are specific to the local issues we are facing and can directly involve the community in these solutions. 
Climate change is proving to be a threat that will affect us for generations. That is why the Kahnawà:ke Environment Protection Office (KEPO) is committed to addressing climate change. One of the first steps taken in addressing climate change as a community was through the development of the Kahnawà:ke Climate Change Plan, which aims to reduce our contribution to climate change and improve our resilience in alignment with Onkwehón:we values. There are six main climate-related hazards identified that Kahnawà:ke can expect to occur with increased frequency in the coming years: higher average temperatures, droughts (increase in wildfires), heatwaves, destructive storms, heavy rainfall, and river floods. 
At KEPO, we are planning some activities that are in alignment with the Climate Change Plan, to reduce our impacts on the environment and prepare the community for some of the potential effects of climate change. This year, we will plant more trees in Kahnawà:ke, which will help us in our goal to capture more carbon emissions from going into the atmosphere. We are also mapping certain climate-related issues such as areas in the community that are experiencing higher temperatures, and by planting more trees, we will hopefully be able to offset the effects of higher temperatures and heat waves in the community during summer. We would also like to evaluate the possibility of charging stations for electric vehicles, explore public transportation options, assess the efficiency of some public buildings in the community to see how much energy they use and how to reduce their consumption, and review the connectivity of the bike paths. We will also be conducting evaluations and studies that will help us identify the most effective solutions to reduce our local climate-related impacts, while also adapting and preparing for climate-related impacts.  
Considering these actions, we aim to raise awareness in the community, and we will share information regarding climate-related hazards identified in Kahnawà:ke and how we can prepare for these events, both as a community and as individuals. 
Climate change is not just a future concern that will need to be addressed eventually. It is happening now and will continue into the future, which is why it is essential that we act now to enhance the resiliency of the community and to protect the environment for the health of current and future generations. Community participation is a key factor of climate change action and we welcome feedback, ideas and suggestions, as well as encourage everyone in the community to get involved in our upcoming events. If you would like to participate, please contact Marina Gosselin at Marina.Gosselin@mck.ca.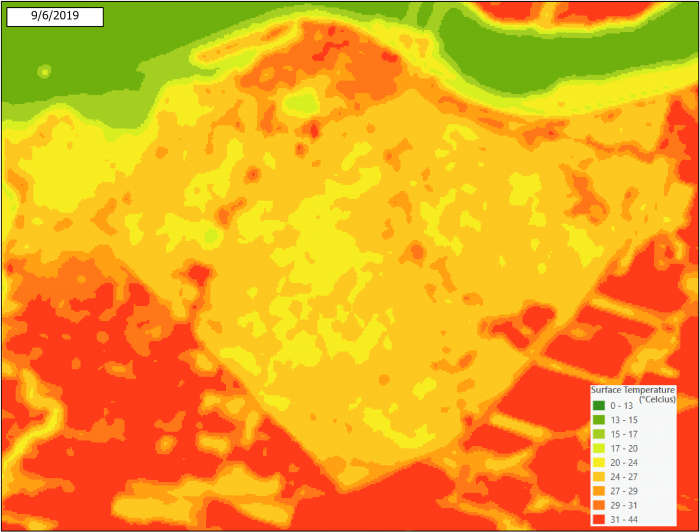 Map of hot zones in Kahnawà:ke, that can be used to can guide us on where to plant more trees to offset the effects of heatwaves. Image courtesy of Marina Gosselin.
---
Seskehkó:wa/September 2019 – The Community Sustainability and Climate Change project is part of the Climate Change and Health Adaptation Program for First Nation Communities South of 60˚N aimed at creating an adaptation plan and producing workshops for Kahnawake to carry out awareness-raising and hands-on planting activities that demonstrate what we can do together to improve the health and wellbeing of our community in the face of climate change.
The goal of this project is to build upon KSDPP's 2017 Community Consultation which identified our community's strengths, goals, and timelines to address climate change. The hands-on mitigation activities and training will provide the practical tools and knowledge for community members and organizations to act.
With a focus of reforestation initiatives, KEPO will be hosting planting events in September 2019 that will help offset the effects of the emerald ash borer infestation by replacing some of our community's dead and dying ash trees. Planting trees is a tangible way to address the issue of climate change, as trees absorb CO2 in the atmosphere and mitigate pollution, offer shade and cooler temperatures to alleviate stress during heat waves, not to mention the emotional and spiritual well-being provided by being in natural spaces.
Climate change is happening now. No one is excluded from the effects of climate change. In recent years, Kahnawake has experienced flooding, heat waves, and an influx of damaging invasive insects and plants due to warming temperatures.
The goal of this project is to support individuals to become actively involved in minimizing our contribution to climate change and counteracting the detrimental effects of it. Community members and key stakeholders will be consulted to help craft the adaptation plan, to ensure that it meets the needs of Kahnawake
On September 19, 20, and 21, KEPO organized a large scale tree planting event. Staff and volunteers helped to plant about 650 trees on Tekakwitha Island and at the greenspace near Orville Park. Niawenhkó:wa!