back
KEPO seeks participants in EMSA. See our PSA here.
Background
The Enhanced Maritime Situational Awareness (EMSA) system pilot project is part of Transport Canada's Oceans Protection Plan aimed at making coast and waterways cleaner and safer. EMSA provides maritime information including vessel traffic, sensitive wildlife habitats, information on indigenous communities, as well as live weather data. Kahnawà:ke's location on the St. Lawrence Seaway makes this data very relevant as the system will allow us to track the vessels passing through the community and improve safety on the water. KEPO is using the system to collect data on the local environment and help coordinate the various projects the team is working on. We can also track the type of cargo of ships are moving through the community.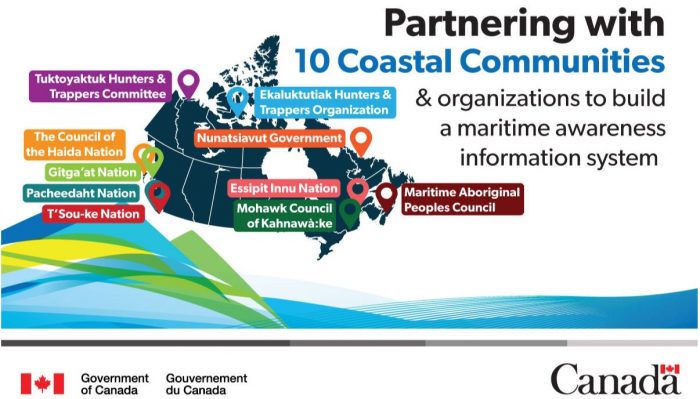 In February 2019 the pilot project launched with 10 coastal indigenous communities from across the country to taking part to help develop and refine the system. Participants met in Ottawa in February 2019 to select the company which would build the system. Through this process Fujitsu (Canada) inc. was chosen and has been working on developing the system with input from the indigenous partners.
The partner communities and Transport Canada met again in June 2019 in Victoria BC for training in the newly launched system. Partner communities took part in three days of training provided by Fujitsu showing them what the system is capable of and how to use its many functions. From this training representatives from each community have been testing the system and taking part in a working group steering the development of the system with features they would like to be added.
Participate in the Pilot Project
The EMSA system is also available for the community to use. The system can be used to help access the North Wall by tracking when the lift bridges are in use. Canoers, boaters, and fishermen could use the maritime information to their advantage. For researchers the system is equipped with access to Canada's open data library and can be customized to map for any project.
We would like the community to have their input in the pilot project. We have set up public access stations, one at KEPO and one at the Skawenniio Tsi Iewennahnotáhkhwa Kahnawà:ke Library, where you can login on to a public account and try it out yourself. We are also looking for participants who would like a personal EMSA account who would be regular system users.
 If you are interested in a personal account, please contact KEPO at 450-635-0600